Looking at prior work that uses LED lights, fiber optics and Electroluminescent Wire (EL-wire) in fabric and/or clothing.
Heidi Kumao's Audio-activated Dress
>> http://heidikumao.net/projects/audio-activated-dress/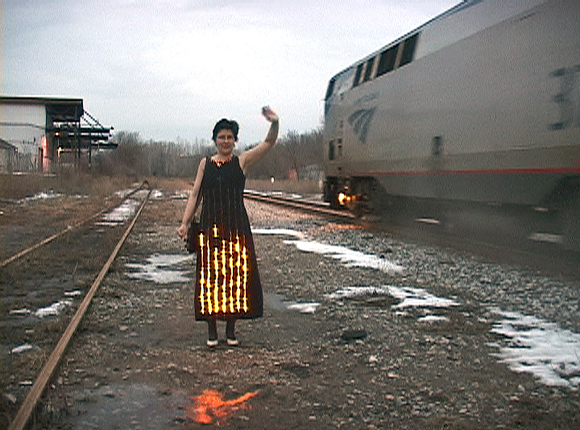 Audio-activated Dress–with Train and Marching Band from heidi kumao on Vimeo.
Light up flowers
>> http://enlighted.com/pages/flowers.shtml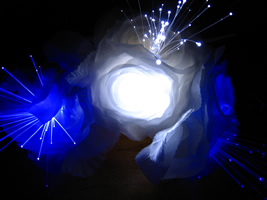 Wind Sensitive LEDs
maybe the lights don't need to be invisible behind fabric, maybe they could be more like this:
>> http://www.fashioningtech.com/profiles/blogs/flare-a-windsensitive

Moritz Waldmeier's work
Video Dresses

Take That's LED Jackets

Moritz Waldemeyer's Portrait in ARTE/SWR/ARD (German)

LED Glowsuit
Light-Choreographed Ballet Costume
LED balloon dress and glove
Voice Following Dress
Pas De Bleu Trailer
3 LED dresses
Lighting Choreographer
Lighting Choreographer – concept and system description – from drpopeye on Vimeo.
Maker Faire 2011 – Erik Johnson – LED Suit
Fiber-optic illuminated clothing
>> http://www.impactlab.net/2009/01/29/lumitop-fiber-optic-illuminated-clothing/

Vega Wang
Phillips mood Dress
Moon Berlin
Climate Dress